We are
driven

by our values:
We Put the Patient First.
Our leaders start with our patients and work backwards. We're here to provide convenient care for our members.
We Work Together.
Breaking the status quo isn't accomplished by one person, but as a team we can accomplish anything.
Let's change the lives of millions of people who deserve access to quality healthcare.
Will Irwin
Co-Founder + CEO
Will is a graduate of Princeton University and received his MBA degree from the Wharton School at the University of Pennsylvania. Since 2003, Will has been the owner of UltraMobile Imaging (UMI), a portable diagnostics service provider in Rochester, NY. In 2016, Will founded EZaccessMD to improve patients' access to care while lowering costs for them and their employers. Will is blessed with a caring wife and 2 wonderful daughters. His hobbies include fly fishing, canoeing and bad golf.
Lois Irwin
Co-Founder + President
Lois Irwin is a graduate of Cornell University where she received Bachelor and MBA degrees. Her very first job after college was working at a mission hospital in Liberia, West Africa, working to launch a mobile healthcare unit which inspired her to join her husband, Will Irwin, in managing UltraMobile Imaging in 2009 and cofounding EZaccessMD in 2016. She has also had successful careers at IBM and Xerox working in marketing, forecasting, and business strategy. Lois and Will are blessed with 2 wonderful daughters. Her hobbies include biking, baking, and better golf than Will.
Todd Henderson
Vice President of Operations
Todd Henderson is a graduate of Rensselaer Polytechnic Institute where he received Bachelor's Degree in Electrical Engineering. Todd has a variety of software engineering and imaging science experiences, including roles at Kodak and Xerox where he was awarded numerous patents. Todd was also the Director of Finance and Operations at an Urgent Care for 12 years. Todd is blessed with a wife and two boys. His main hobby is golfing. He enjoys it so much that he likes to play over 90 holes in one day, multiple times a year.
Chris Dool
Senior Operations Manager
Chris Dool is a graduate of Monroe Community College's Radiologic Technologist Program. As EZ grew to a national level, Chris was tapped to lead the way for the technology selection process, protocol development and training. Working closely with the physicians he identified the best tools and processes that bring the highest clinical value for patients in the community who receive care via telemedicine. Chris was able to optimize the tool selection to a set that now are carefully packaged into one multi-purpose kit that the EZ care team now uses for their in-home visits. In his spare time, Chris continues to volunteer his time as an X-ray tech to patients in the community.
Rich Battoglia
Vice President of Finance
Rich Battoglia is a graduate of Slippery Rock University of Pennsylvania with a bachelor's degree in Business Administration. Rich has 35+ years of progressive financial management experience in a variety of industries including 30 years as a controller. Most of his experience is in small privately held manufacturing companies. In addition to his financial background, he has also had operational and ownership responsibilities. He excels in operational efficiency, and process improvement. Rich was a college wrestler and continues to be active in the world of high school wrestling. Rich and his wife Kelly have raised 2 successful children. In his spare time, he enjoys building furniture and watching baseball.
Tim Randall
National Vice President of Sales
Tim Randall is a graduate of Clarkson University where he received a Bachelor's Degree in Marketing. Tim has acknowledged experience in launching new products and creating name-recognition in highly competitive markets with a documented record of producing sales results. He is recognized for exceeding territory goals and is accomplished in identifying market opportunities, implementing strategies and achieving objectives. Tim and his wife can often be found in a hockey rink or a concert hall watching their three sons playing hockey or performing music.
Betsy Cohen
Executive Solutions Consultant
Betsy Cohen graduated from Cleary University with a Bachelor's in Business Administration. Her passion and focus is always on making a difference. Being a part of the "disruptive" healthcare industry, Betsy is working hard to spread the word about ways to lower healthcare costs while improving access to care through in-home urgent care. In her down time, Betsy is an avid gardener, baker, and is learning the ukulele. She enjoys life with easy-going husband, Jakko, two dynamic daughters, Pickles the Perfect Cat, the Mischievous Floof Cat, some sedentary fish, and the newest addition – Dozer- the Goofy Dog.
Rachel Behrens
Billing + Human Resources Manager
Rachel Behrens has worked in healthcare for 12 years and has developed a true passion for the field. She believes that EZ provides excellent patient care and betters the community by the work that is done. Rachel strives to learn and grow every day so she can continue to positively impact the community. In her free time, Rachel is a student of Mortuary Science and is equally as passionate about the Deathcare Industry. Her future plan is to continue her personal growth in both fields. Rachel wants to teach her children that if you are passionate about something, through hard work and dedication, you can strive to accomplish anything.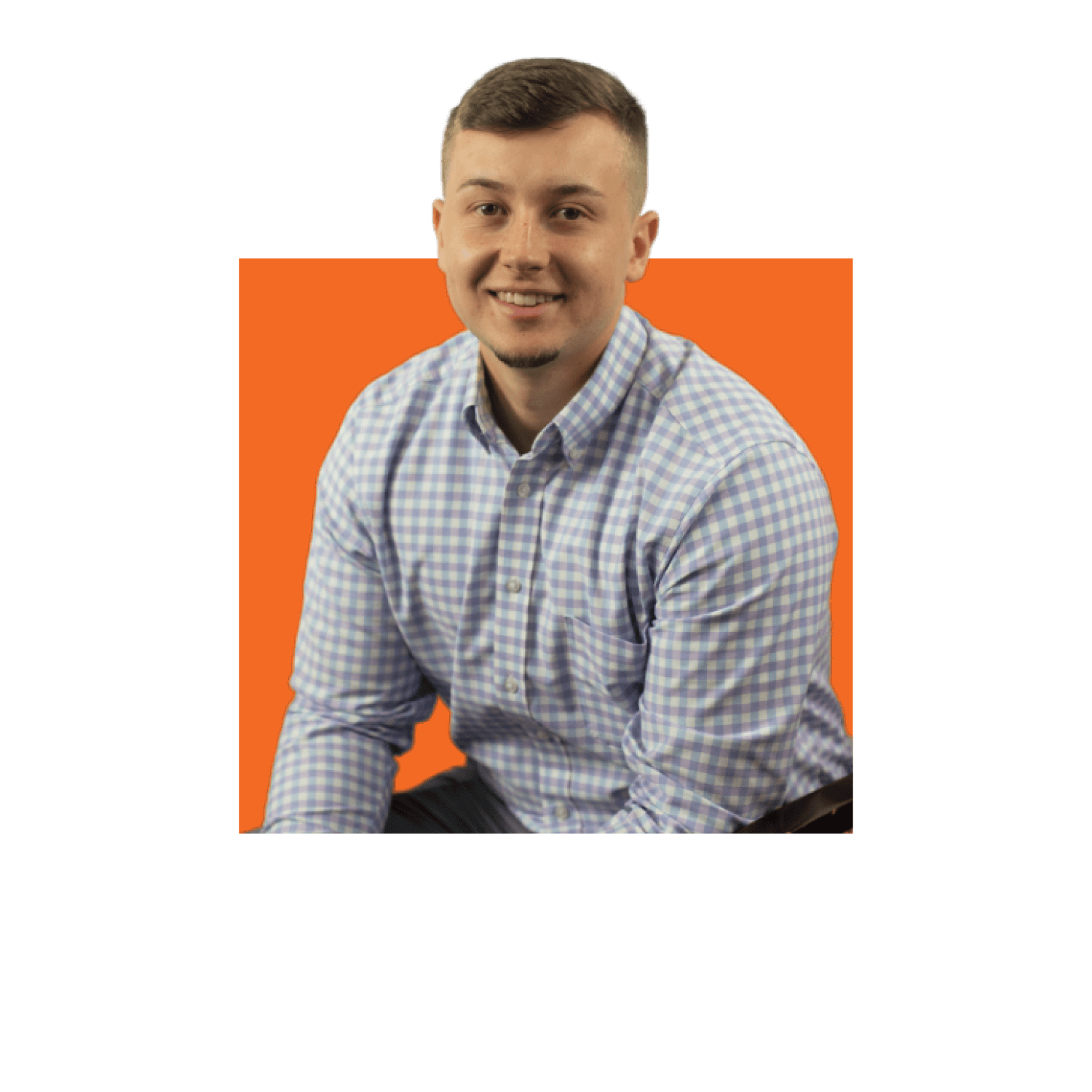 Brooks Vertoske
Marketing Manager
Brooks Vertoske is a graduate of Keuka College where he received his Bachelor's Degree in Marketing and then pursued his MBA with a concentration in Digital Marketing at RIT. Brooks became a Marketing Manager at EZaccessMD because of his passion for organizing a brand's image to bring them to their full potential. Brooks leads the management and implementation of EZ's advertisements, social media platforms, communication channels, and event marketing to help build the brand and its competitive strategy in the telemedicine industry. While Brooks had success playing Division 3 baseball at Keuka College and RIT, he is now retired and considers himself a below average golfer.
Carrie Bourbonnais
Care Coordination Manager
Carrie Bourbonnais attended RIT where she received her Bachelor's Degree in Graphic Design. Carrie leads EZ's care team to ensure every patient has a great experience when they call for care. She is also a Marketing Committee Member and Board Member of GRAPE where she serves the older adult population in the Greater Rochester area and aspire to improve the quality of services for them. Carrie is a mother of three girls, including twins. Carrie and her husband Justin enjoy their free time traveling, camping, and boating. The Bourbonnais family are proud members of #BillsMafia.
Wendy Ward
Account Manager
Wendy Ward attended Keuka College where she received her Bachelor's Degree in Criminal Justice and Corrections. After she heard about EZ's mission, Wendy decided to pivot her career path and join Team EZ where she is responsible for all current client relationships. Wendy is a proud breast cancer survivor and mother of two with her husband, Russ. In their spare time, the Ward family enjoys rocking out in their family band!
Sam Lowrey
Enrollment Specialist
Sam Lowrey is a graduate of Monroe Community College where she received an Associate Degree in Liberal Arts following a change in major in Culinary Arts. Sam joined EZ in 2019 with extensive experience in the world of healthcare and is now responsible for EZ's subscriber management and ensuring all of EZ's members receive the best care possible. Sam and her boyfriend Jeff are proud parents to daughter Jayda and wonderful dog Billie. They are avid football fans and proud members of #BillsMafia.