The EZ Difference
In the crowd of benefits, we stand out.
Not to brag, but EZaccessMD is the only mobile urgent care that offers diagnostic testing and imaging in the home or workplace. Not only are we revolutionizing the way employees get care, we're making it affordable for them and their employers.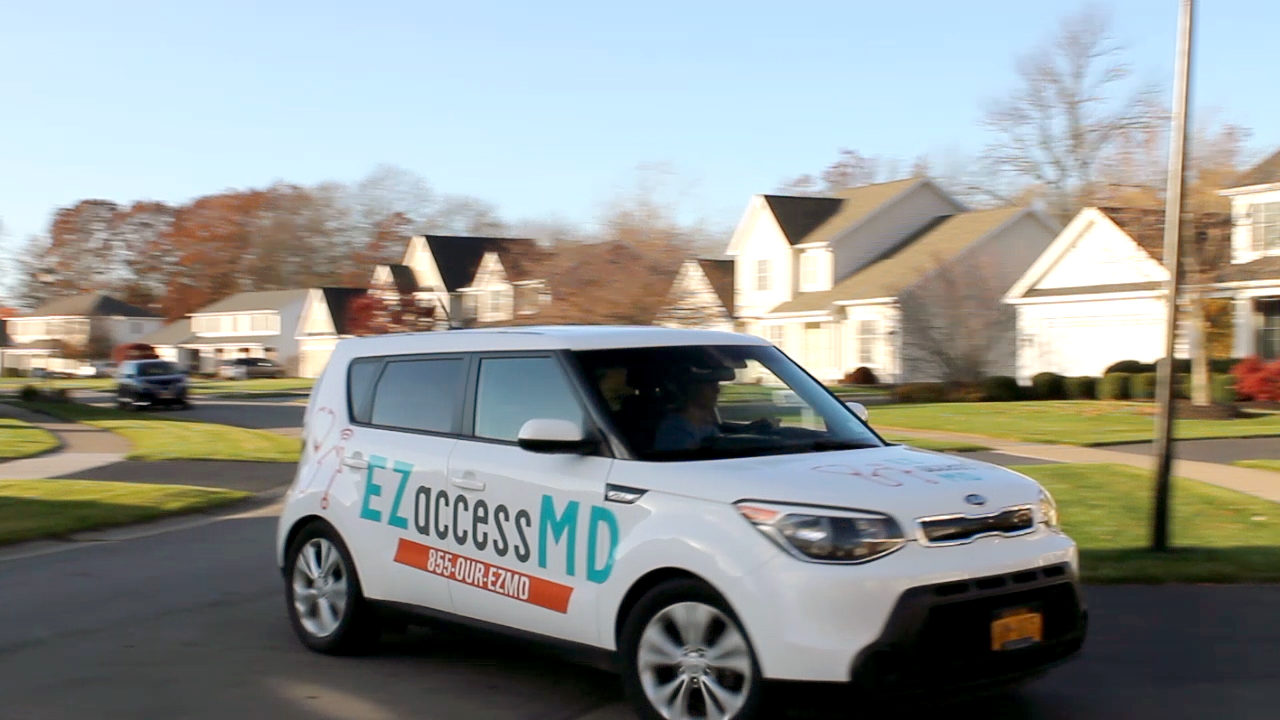 Connect with us.
Your employees will thank you.
Call us at 855-313-8145 OR
What is the EZ Difference?
EZaccessMD provides employers and employees alike with what we call the EZ Difference: comprehensive, convenient care that comes right to the doorstep. Our members can consult with a doctor in minutes and receive on-site assessment and diagnostics – all in under 2 hours. For the employee, this means no time spent traveling and sitting in waiting rooms, no money spent on a copay, and no added stress. For the employer, this means money saved on insurance claims, loss of productivity, turnover, and absenteeism.
What makes EZaccessMD unique is our ability to offer telemedicine + mobile diagnostics.
With this powerful combination, our members can receive treatment on their schedule
without waiting for or traveling to an appointment. We diagnose and treat many common, less serious health issues and help our members avoid expensive and time-consuming trips to urgent care facilities or emergency rooms.
With our portable medical equipment, we can diagnose and resolve health issues with less visits which helps our members live healthier and more productive lives. Below is how EZaccessMD's telemedicine + mobile work together to improve access and quality of care for our members.
Quick Triage by Our Care Coordination Team
U.S. Board Certified Physician Consult Within 30 min.
Personalized Treatment Plan
Prescribe Medication if Necessary
No Cost/Copay for Employee and Eligible Family Members
Phone or Video Consult with a Doctor Anytime, Day or Night, Mobile Diagnostics available 6am-11pm
Friendly, Certified Medical Technologist Arrives
to Home or Office Within 2 Hours (if needed)
Lab Tests—Flu, Strep, and Urinalysis
Frequently Asked Questions.
If you can't find the answer you need, call us today at 855-313-8145!
What's the coverage area?
EZaccessMD's telemedicine service is offered anywhere in the USA. Our telemedicine + mobile benefits are available to employers throughout the Midwest and East Coast in 29 states.
Are mobile visits free?
Yes. A doctor will order a mobile visit it they believe supplemental information is necessary for you to be diagnosed. The doctor will follow up with you shortly after the mobile visit is completed.
Are prescriptions covered?
Prescriptions are not covered by this plan however we do include a prescription card, so you can obtain pharmacy discounts. Use this card or your insurance card to obtain the best price for your medications.
Is it through insurance?
No. We are reimbursed completely through private pay. Your employer has decided to participate in this benefit and is paying for it in full on your behalf.